In the next few days, Summit Entertainment is expected to announce its cast for New Moon, the next film based on Stephenie Meyer's successful follow-up to Twilight.
Kristen Stewart will return as Bella Swan; while Robert Pattinson has a lock on his role of Edward Cullen.
But rumors have been swirling about Taylor Lautner's status in the sequel. His character of Jacob is greatly expanded in New Moon... literally!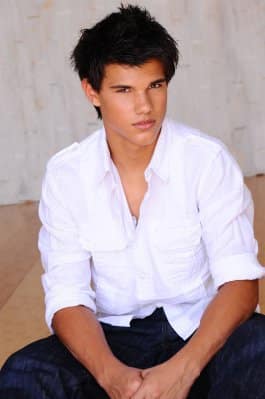 ''Jacob is a totally different character in New Moon,'' said Melissa Rosenberg, screenwriter of both Twilight films. ''He's a foot taller and huge — and he's supposed to look 25. It's really a question of whether or not the same actor can play the role.''
Lautner says he's already packed 19 pounds onto his frame, however, and Entertainment Weekly reports that he's now likely to reprise the role of Jacob.
"Everyone would love to keep him. We all think he's the loveliest person ever," Rosenberg said.