Isla Fisher reminds us of Amy Adams. And we mean that in the best possible way.

As Rebecca Bloomwood, the clothes-crazy star of Confessions of a Shopaholic, the actress glides around with the permanent smile of a true believer.
She simply must have everything she sees! Every item is a magical object that will upgrade Bloomwood identity, as the character hopes these pieces of clothing will morph her into something as beautiful and perfect as the clothes themselves.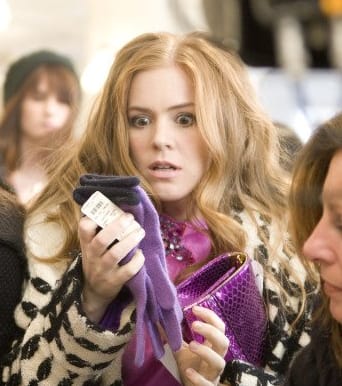 The comedy is based on Sophie Kinsell's best-selling book. It's difficult not to compare it to films such as Pretty Woman and Sex and the City, where high-end fashion - as highlighted here - is portrayed as a series of dress up games and/or guilty pleasures.
In Confessions of a Shopaholic, though, no apologizes are made for Rebecca's clothing cravings. She is who she is, take her or leave her!
And, similar to Bridget Jones (in that franchise's first movie, at least), this is one heroine who is impossible not to root for, even if we can't ever imagine sharing her obsession or her life.