Coraline is one cool movie.
In this 3D, animated adventure, Coralina Jones (voiced by Dakota Fanning) is an 11-year-old girl. She recently moved into the Pink Palace with her parents (Teri Hatcher and John Hodgman), both of whom are too busy to spend time with their daughter.
It's not fun to be Coraline... until she discovers a secret door.
From there, the girl is whisked away to a fantasy land that is essentially an opposite, alternatie universe from the one in which she currently resides. Does this mean it's a better life?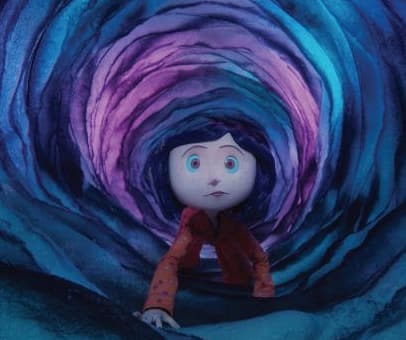 At first, yes. But there's a "Is the grass always greener on the other side?" motif that runs throughout the film.
This is a fantasic family story, tapping into various childhood dreams and nightmares involving Mommy, monsters and heroic youngsters. Its also visually incredible.
Pay special attention to a sequence in which Coraline is a fly trapped in her captor's web. From its storytelling to its unique use of three dimensions, Coraline is a must-see for all ages.