Say this about Zach Snyder's adaption of Watchmen: it's uncompromising.

The director makes no effort to play down any of the violent or sexy themes from the best-selling graphic novel, nor does he seem to care if the average movie goer follows along.

Correction: perhaps he simply has enough faith in the original work to believe that everyone WILL follow along, without the story being dumbed down in any way, shape or form.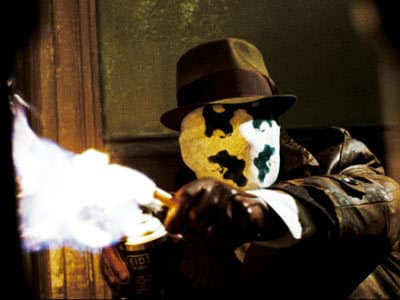 This is not a comic book movie for children by any means. It's textually dense, visually rich and structurally complex. It also runs close to three hours in length, and fans of the graphic novel are likely to remain in their seats, mesmerized, for another three hours after that.


The film works on numerous levels:
- There are funny one-liners;
- An ending that differs from the graphic novel, but remains true to its spirit;
- The sets are incredible;
- There's a tremendous sex scene between Nite Owl and Silk Spectre II. We had to mention it;
- Jackie Earle Haley puts on a masterful performance as Rorschach.
For the first time in a very long time, a movie lives up to its hype. Go see Watchmen.