In the interest of full disclosure, we were fans of the WWE back when Dwayne Johnson was the company's main attraction as The Rock.
Still, knowledge of this actor from his days inside a wrestling ring inn't necessary to understand his mass appeal. He's an action star, with a 1,000-watt smile and as much charisma as anyone in Hollywood.
With that in mind, it's virtually impossible to dislike Race to Witch Mountain. It's a fun ride for kids and a surprisingly action-packed adventure for adults.
Viewers will be shocked by the amount of action sequence in the film, in fact, as one just seems to follow another. There's a car chase... followed by an explosion, all involving government officials, bounty hunters and cool visual effects.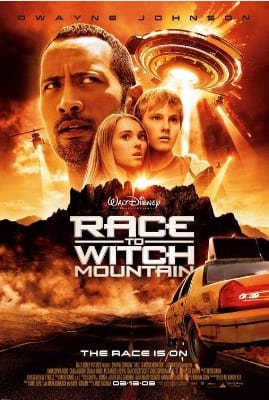 In the movie, siblings Sara and Seth are blessed with certain powers. They arrive on our planet as part of a search for something that was placed here that holds the key to helping their original planet avoid a catastrophe.
The kids end up in Las Vegas during a UFO convention. Once there, they meet up with Johnson's character, Jack Bruno, an ex-mob member and all-around tough guy. Jack helps them race to Witch Mountain in order to, you know, save the world.
Sure, there are plot holds in the film - such as a few pointless characters and strange use of powers by the children; the endig was also a bit sappy, as crying on cue isn't Johnson's strength as an actor.
But children will be entertained and parents won't be bored. What else can you ask out of this type of movie?