The previously rumored Wall Street sequel has been given a name, Money Never Sleeps, and a description according to Latino Review.
According to their video, the sequel to the 1978 follows Gordon Gekko in 2002 after he's released from his 14-year prison sentence.  Gekko, whose book, "Moral Hazzard" launched him on to the financial lecture circuit, meets a young Wall Street hot shop named Jacob L. Moore.  Sorry, Bud Fox, you're old news.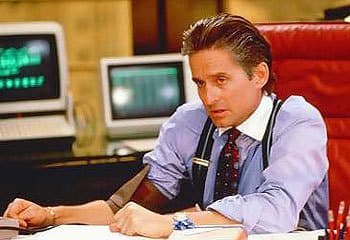 Jacob's previous mentor committed suicide after rumors took down his former company, KZI.  When Moore discovers that a trader named Brenton Woods was responsible, Jacob goes to Gekko for advice in exacting revenge.
Oh, and of course, if that weren't enough, it turns out Jacob is enaged to Gekko's estranged daughter.  The movie will take place in New York, London, and Dubai.