Take Jack Black's over-the-top comedy, combine it with Michael Cera's timid, hilarious demeanor and - presto! - you get the seemingly hilarious Year One.
The movie opens on June 19, but the trailer has already given viewers a few glimpses at a few humorous lines. To wit:
Oh: I feel like a bird! | permalink
Cain: They're wheels, numbskull. They make the cart roll. | permalink
Oh: Well there won't be any berries in the fruit salad now, so we all lose. | permalink
Zed: You could be my right-hand man.
Oh: I've seen what you do with your right hand. No, thank you. | permalink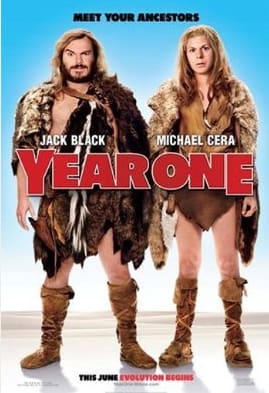 We'll update our cadre of Year One quotes after the movie opens.