The rumors have become a reality.
In a recent interview with E! News, David Arquette confirmed that he and his wife have both signed on for another installment of the Scream franchise.
"We are going to be doing Scream 4," Arquette said. "Kevin Williamson is writing the script at this moment, and hopefully Wes Craven is going to direct."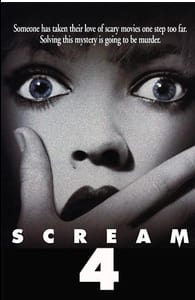 In the original horror movie, Arquette portrayed  Deputy Dewey Riley, while Cox served as tabloid television reporter Gale Weathers.
"I fell in love with my wife on Scream, so the opportunity to bring [Dewey] back to life and for my wife to play that really bitchy character again, it's just going to be really fun," Arquette said, adding that he hopes star Neve Campbell changes her mind and joins the film.
Will you buy a ticket for Scream 4?