On August 21, Inglourious Basterds hits movie theaters.
Directed by Quentin Tarantino and starring Brad Pitt, the movie is so anticipated that talk of a sequel is already in the works. At least if you ask movie producer Harvey Weinstein.
"Brad wants to do Inglourious II. We all want to do it. And the movie hasn't even come out yet," Weinstein told GQ.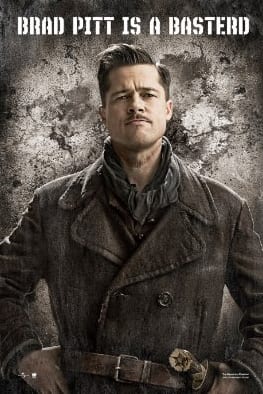 So, what is Inglourious Basterds actually about? Weinsten said:
"It isn't funny; it isn't exciting; it isn't a realistic war movie, yet neither is it an entertaining genre spoof or a clever counterfactual wartime yarn. It isn't emotionally involving or deliciously ironic or a brilliant tissue of trash-pop references. Nothing like that.
"Brad Pitt gives the worst performance of his life, with a permanent smirk as if he's had the left side of his jaw injected with cement, and which he must uncomfortably maintain for long scenes on camera without dialogue."