We've got a couple of interesting New Moon updates for fans.
First, a new photo from the movie has been leaked.
In it, Bella and Jacob lock eye in the front seat of car, as the character recreate one of the most memorable scenes from Stephenie Meyer's novel. Will Bella give in to temptation and lay a kiss on Jacob?
Edward, after all, has been absent from her life for a long time at this point in the story.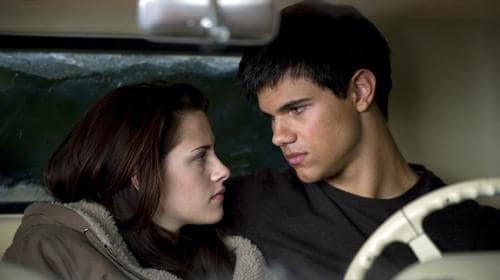 Meanwhile, director Chris Weitz gave an in-depth interview to Rotten Tomatoes about the movie. We've excerpted the part where he describes his favorite scene:
"There were a lot of fun scenes to film, frankly," Weitz recalls. "I really did enjoy the scenes in the Volturi headquarters [filmed on Vancouver soundstages], although it was a tremendous logistical headache. In a way, it's the scenes that you dread the most, because they are so time consuming and you have to get them just right, which is like the stuff in the Volturi headquarters, or the stuff that was shot in Montepulciano.
"I suppose that has to be my favorite scene, because it is the high point of the movie, when Bella goes to try to stop Edward from killing himself. We had a thousand extras in this medieval town square in a hill town in Tuscany, in the most beautiful country on earth, and it was such an extraordinary opportunity to get to work there.
It was also kind of surreal, because every Twilight fan who could make it from all over continental Europe and further, had gone by hook or by crook to Montepulciano and booked a hotel room - sometimes at the very hotel which the cast and crew were staying.

"So there was this kind of weird Beatlemania sort of thing going on in this very small, beautiful, hill town. For five days it was this kind of bizarre festival atmosphere, and it really wasn't bothersome at all; it was incredibly gratifying.
All these people would applaud after every single take, whether or not we had screwed it up - they had no idea because they weren't close enough to hear. But if you looked down any alley down which the camera wasn't pointing, you'd see hundreds of these young girls who had come to just touch a piece of what they really loved."