Despite their seemingly ridiculous, over-the-top, lewd premises, there was always an undercurrent of real emotion in Judd Apatow's first two directorial efforts, Knocked Up and The 40-Year Old Virgin.
With Funny People, though, the writer/director goes straight for the heart, as Adam Sandler plays a dying comedian.
As many in his situation would do, Sandler's George Simmons thinks a great deal about life after his diagnosis. Not exactly the same premise as a movie about an old guy that hasn't had sex yet, huh?
There's still plenty of room for sex jokes and gay jokes, don't get us wrong. Seth Rogen and Jonah Hill also star in the film, each as a stand-up comedian with a raunchy sex of humor. Apatow is certainly aware of his core audience with these characters.
But there's shocking warm humor under it all, along an incredible lead performance from Sandler. In this new age, where 10 movies will be nominated for Best Picture at the Oscars, might he even garner an awards attention?
That's speculation for another time.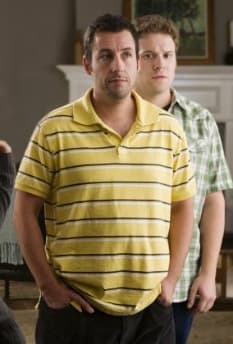 Apatow could not have gotten away with Funny People as his first film, or even his second. But the writer now has established enough of a fan base that they can trust him to lead them into more mature, profound territory, yet never stray too far from the next penis joke.
That's what the movie is all about. Who says dying has to be completely serious all of the time?
While the third act is a let down from the first two - a problem in all of Apatow's comedies, as he sets up such pitch perfect premises, the conclusions are almost bound to fall short - this is a movie that is ideal for a couple or a group of friends.
It's amusing, engaging, funny and well-acted. What else could you ask for on a Saturday night?