Upon first glance Humpday would appear to have a lot in common with Zack and Miri Make a Porno.
That is, the film would seem to be nothing but an attempt to shock. After all, it's premise that a pair of straight friends take a dare and make a gay porno... together.
But the comedy aims higher; it's not just about making viewers squirm (though that's certainly accomplished, as well), as stars Mark Duplass and Joshua Leonard make a statement about friendship and male bonding with their performances.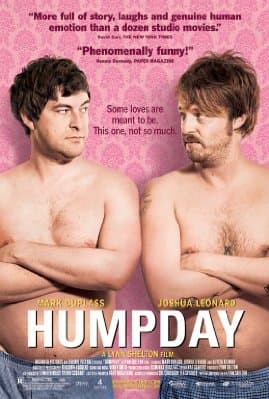 This turns out to be one of the observant and intelligent movies ever about relationships between men that we've ever seen.
It's ironic that the movie opens opposite Bruno, as the films tackle a similar subject. Naturally, Bruno has received a lot more publicity, but Humpday is a far more impressive effort. It's funny and sweet, while also being rather offensive. A great combo all around.
Overall, Humpday uses it seemingly ridiculous premise for maximum comic discomfort. Trust us: this approach will have audiences unable to look away... unless viewers are doubled over in laughter.