The only thing more predictable than The Ugly Truth is the fact that Katherine Heigl will return next season on Grey's Anatomy.
This is a romantic comedy that is neither funny nor romantic. Instead, it focuses on the totally original concept that - gasp! - opposite attract! Please. Paula Abdul taught us that years ago.
The plot is basic: Abby (Heigl) produces a morning show; Mike (Gerard Butler) is the star of it, a seemingly chauvinistic man that promises he can show Abby how to land a guy.
How so? By showing her the "ugly truth" behind the dating world, of course. As you'd expect the characters wind up in an escalating series of preposterous events and situations. They aren't remotely believable as real individuals.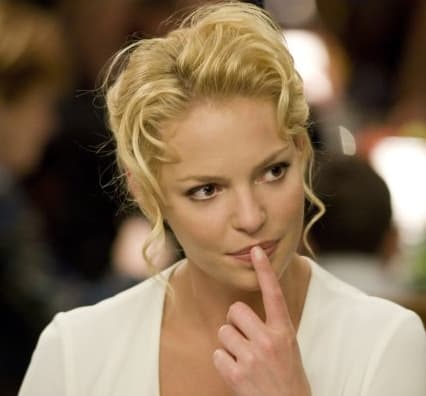 Are the hinjinks occasionally amusing? Yes. But no more so than the average sitcom. And that doesn't cost $10 to watch.
What kind of played out joked dominate The Ugly Truth? Men like to have their egos padded; so fake orgasms and fake laughter are great ideas when you're trying to win a guy over. That's just a fantasic message to send to women out there.
There's very little charm to either of these characters, as we're left to wonder why Butler chose this script for his foray into the world of romantic comedies. It's sad to think this is the same man that starred in 300.
In the end, this is yet another film that focuses on the (pretty much made-up) battle of the sexes. Who wins in it? Certainly not the audience.