Little by little, plot points for Iron Man 2 are leaking out.
We know the theme of the sequel will focus on Tony Stark's admission that he is, indeed, Iron Man. Robert Downey Jr. has also promised "twice the action" in the follow-up than in the original.
Now, as a mini-spoiler, Road & Track has a published a photo of Stark's GP racer from the movie. Along with posting the picture, the magazine writes:
This is the Stark Industries-sponsored vintage race car that the movie's main protagonist will be driving in a scene that depicts him racing in the Grand Prix de Monaco Historique, a vintage race held in Monte Carlo. The scene is not being filmed on the actual streets of the tiny, glamorous seaside principality near the south of France, but on an elaborate set that replicates the Monaco circuit.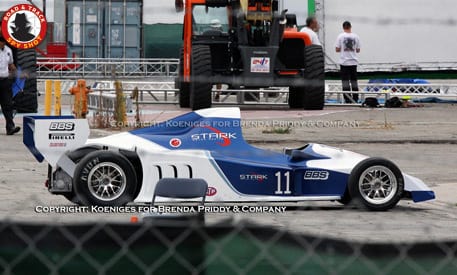 Iron Man 2 comes out on May 7, 2010.