We don't wanna act as a shill for People magazine, but New Moon fans would be well-served to pick up a copy of the September 7 issue.
The publication's next issue will feature exclusive new photos of the Volturi, such as the shot below of Dakota Fanning in the role of Jane.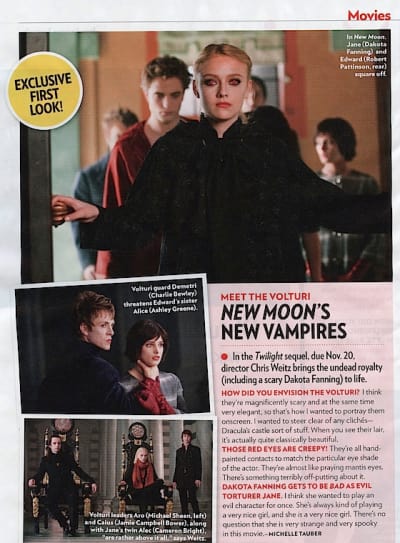 There's also a smaller shot of Demetri clenching Alice's throat; along with a pic of Aro, Caius and Alec in the throne room.
In the article, New Moon director Chris Weitz says:
"I think they're magnificently scary and at the same time very elegant, so that's how I wanted to portray them onscreen. I wanted to steer clear of any clichés-Dracula's castle sort of stuff. When you see their lair, it's actually quite classically beautiful."