Let's get this out of the way first: there's no legitimate reason for Inglourious Basterds to be misspelled as it is.
This is just an example of director Quentin Tarantino being goofy and different for the sake of being different and goofy.
Aside from that tidbit, the movie should almost come with a disclaimer: of course World War II is a serious, complex and horrifying event. But that's not the focus here.
One simply has too much fun watching Brad Pitt and his twang to worry about the actual death count and circumstances surrounding the war. Anyone seeking a history lesson, or anything resembling a serious study, should stay far away from this thrill ride.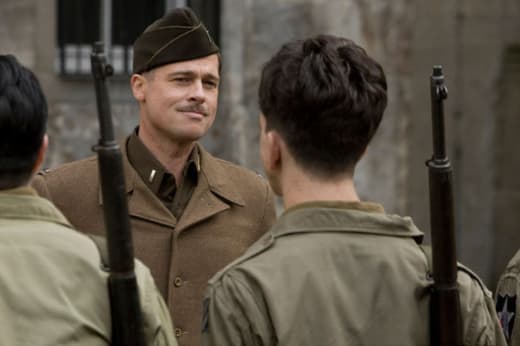 There's never really a point in Inglourious Basterds where the audience is unaware the movie was directed by Tarantino. He'd be the first to admit it's self-indulgent. But that's to be expected from someone with such a unique style and, let's face it, huge ego.
Sometimes, we wished Tarantino would focus a bit more on character development or plot, instead of smashing together various genres and simply going for what will look or sound "cool." But that's a small complaint
When you see Pitt having such a great time, surrounded by hilarious co-stars such as BJ Novak from The Office, you're happy to just go along for the ride.