At this week's Television Critics Association press tour panel for Fringe, writer Alex Kurtzman talked at length about the upcoming Star Trek sequel.
Kurtzman, who writes for the Fox drama and who penned this May's Star Trek movie, said:
"The approach for us on the first movie was how do we please fans and how do we please people who have no relationship to Trek. It's a question we have to keep asking ourselves constantly. It's a very tricky formula because it's hard…
A lot of what makes diehard Trekkers really focused on Trek are those details that can sometimes be alienating to people that are not on the inside. So that leads us back to things of what are the big themes? Emotional ideas? That's a language that everybody speaks."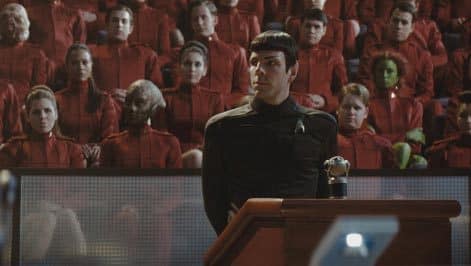 Other sequel notes from Kurtzman included:
The sentence "He's dead, Jim" will likely show up in part two.
Greg Grunberg wants to play villain Harry Mudd. 
Damon Lindelof will join the writing team for the sequel.
Said co-writer Roberto Orci:
"We're going to come up with a story together, obviously in consultation with J.J. and [executive producer] Bryan [Burk]. And then we're going to write it up together, the story, us and Damon. And then Alex and I will write the script."