New Moon will hit theaters in less than two months.
But fans of the Twilight Saga don't even need to wait that long to purchase the film's soundtrack.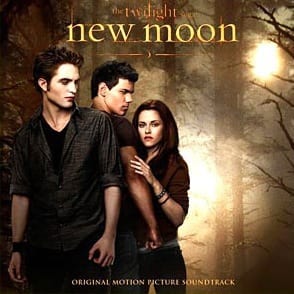 The official album hits stores on October 13. The complete track list for the CD has been released, and fans can check out each single below:
Death Cab for Cutie: "Meet Me on the Equinox"
Band of Skulls: "Friends"
Thom Yorke: "Hearing Damage"
Lykke Li: "Possibility"
The Killers: "A White Demon Love Song"
Anya Marina: "Satellite Heart"
Muse: "I Belong to You (New Moon)"
Bon Iver & St. Vincent: "Roslyn"
Black Rebel Motorcycle Club: "Done All Wrong"
Hurricane Bells: "Monsters"
Sea Wolf: "The Violet Hour"
OK Go: "Shooting the Moon"
Grizzly Bear: "Slow Life"
Editors: "No Sound but the Wind"
Alexandre Desplat: "New Moon (The Meadow)"