Earlier this week, we uncovered a handful of Sex and the City spoilers for the film's upcoming sequel.
Now, supermarket tabloid Us Weekly claims to expand on plot details from the May 28, 2010 movie.
In its latest cover story, the magazine says its obtained a casting notice that details the future of Carrie and Big, who got married to conclude the first Sex and the City movie.
"Big loses a lot of money and takes a job in London, living alone in a one-bedroom apartment. Big gets really low and ends up in bed with another woman. After she leaves him, Carrie discovers she is pregnant," reads the notice.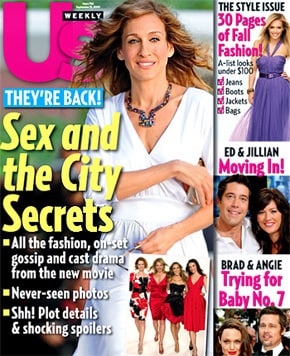 This is Us Weekly, of course, so consider the source before fully believing any story. This report does seem to confirm the secrets we spilled earlier in the week, though, as far as Carrie and Big facing an economic downturn.
A source on set adds that the follow-up film "won't be predictable."