Legendary comedian Billy Connolly recently sat down with Comingsoon.net to talk about his career and his latest role, reprising Il Duce in Boondock Saints II: All Saints Day.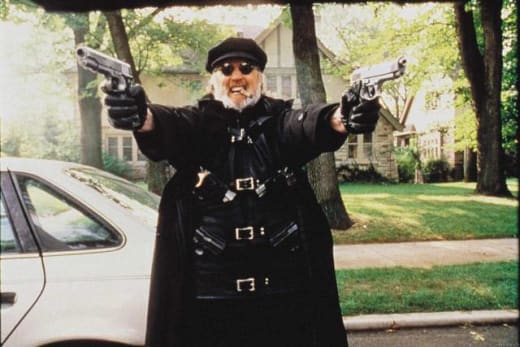 In the interview, Connolly expounds on what it was like to get back into character and settling back into working with the notoriously surly Troy Duffy.
Connolly had this to say about what it was like to get back in action for Boondock 2: "It was great. It was real easy because the same cast had all assembled again. If the characters had been different it might have been peculiar, but it was the same guys so it felt like an old, comfortable suit of clothes."
About how Troy Duffy got him back on board for a sequel: "I stayed in touch with him. I lost touch for a little while, and then a limo driver gave me his number. The rest of the guys had been in touch with him all the time, and I missed him, I missed his company. He's a great guy. So I bullied him into thinkin' about me again, but he had been thinkin' about me all the time anyways."
About Duffy himself: "I love the way he behaves, and I feel very very comfortable working for him. I think the fact that everybody came back to work for him says everything. Absolutely everybody, including Dafoe... I think he enjoys being who he is. He's very kinda Rock 'n' Roll, you know? That's the kinda background he comes from, a Rock 'n' Roll background. He behaves Rock n' Roll, and I'm very comfortable with that."
All of this would seem to contradict the portrayal of Duffy presented in the documentary Overnight as a foul-mouthed, unpleasant egotist, which was a chief reason it has taken 10 years to get a sequel to Boondock Saints off the ground.
For more about Connolly's experience on set, what it was like working with Peter Fonda, and what lies in store for the actor/comedian, check out the full interview at comingsoon.net!
Boondock Saints II receives a limited theatrical release October 30.