While rumors of a third Ghostbusters movie have been swirling around for quite some time, it's looking better than ever for the paranormal eliminators to return to the silver screen.
Ghostbusters writer/actor Dan Aykroyd has been a major proponent of the project, but there was always the problem of getting the rest of the cast to sign on, namely Bill Murray. Aykroyd now proposes a clever way around that- hiring unknown talent.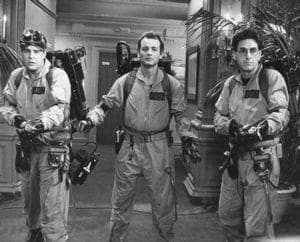 "I hope it's a nice mix, maybe two guys and two girls," the actor told New York magazine Oct. 28. "We'll find some great young actors. We're probably going to search for unknowns."
According to several sources, including fellow Ghostbusters alum Harold Ramis, the plan for the third film is to have the original Ghostbusters pass the torch to a new generation of slime exterminators.
"I want to retire and hand it over to a young cadre and cadet who can pick up the equipment and drive the car because I'm too old for that now," Aykroyd said.
The plot sounds similar to the recently released Ghostbusters video game, which saw the reunion of Aykroyd, Ramis, Ernie Hudson and even Bill Murray, who all lent their voices to their respective characters. Apparently, the experience and plot of the game were good enough to get Bill Murray excited about a third movie.