Everyone who's followed Spider-Man's adventures on the comic page knows that Dr. Curt Connors is destined to become one of Spidey's most famed arch-nemeses: The Lizard.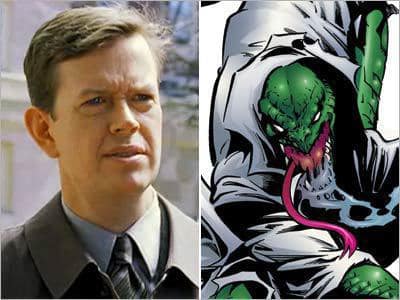 We first caught a glimpse of Connors in Spider-Man 2, played by Dylan Baker. Since then, Connors has remained a background character- Peter Parker's one-armed college professor.
With each passing film, we get more and more anxious to know when Connors will make the transformation.
Last night, Baker confirmed at a Trick r' Treat screening that he will indeed be playing Dr. Connors in Spider-Man 4. However, when asked if he'll become the Lizard in this one, Baker joked that he'd be "just appearing in the background."
It is way too early to take this as a fact, though, as Sam Raimi is just starting to gear up production, and we have no idea whether Baker is allowed to disclose such a fan-frenzy-worthy detail.
Spider-Man 4 isn't due to hit theaters until May 5, 2011.