Everyone who was alive back in 1996 remembers that Independence Day was the movie of the summer. It was one of the biggest blockbusters of all time, garnering over 800 million dollars worldwide.
With such a huge gross, one could almost hear the Hollywood machine go "cha-ching!" as it realized the franchise potential of such a film. But nothing happenend.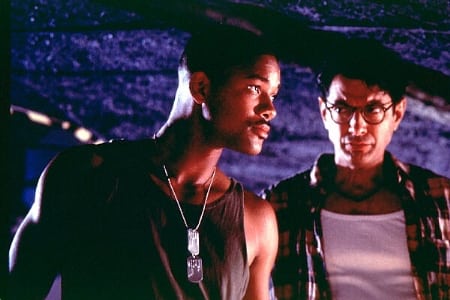 ID4 Producer/Director Roland Emmerich recently spoke to Latino Review while promoting his upcoming disaster epic, 2012. Upon being asked what the deal was with the long-rumored Independence Day sequel, Emmerich spilled these beans:
"Dean Devlin and I are still set to make a sequel likely because we've found some sort of idea and we approached FOX and FOX has not quite figured out how to incorporate Dean's and my deal, and Will's (Smith) deal. Will wants to do it in some sort of a package they can live with. So it's just been in negations now since forever, and naturally FOX says "Why don't you do it without Will Smith?" I said Will is essential for us, for this movie and actually for the audience too. And, so, it's in limbo and lately the studios are fighting. Like gross players, and Will is a gross player and is probably the only gross player right now who's worth his gross. So we'll see what happens. I would love to do it.."
Furthermore, it seems 20th Century Fox hasn't been all that honest about why the film hasn't happened yet. You can read more on the subject here.