Only a day after we got our first look at Rampage Jackson as B.A. Baracus, 20th Century Fox has released a photo of the new four-man wrecking crew!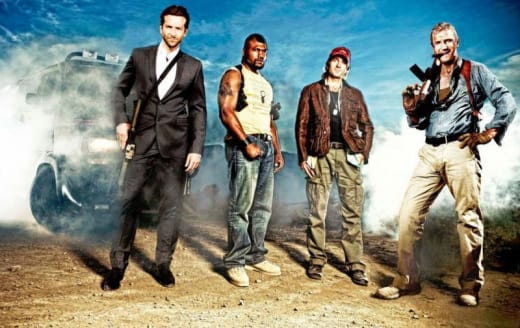 From left to right: Bradley Cooper as Lt. Templeton "Faceman" Peck, Quinton "Rampage" Jackson as Sgt. "B.A." Baracus, Sharlto Copley as Capt. "Howling Mad" Murdock, and Liam Neeson as John "Hannibal" Smith.
Not pictured is Jessica Biel, but we've already caught a glimpse of her on set. You can click on the photo to see a larger version.
What really excites me about this picture is not just the fact that Liam Neeson looks like the spitting image of George Peppard, but if you look closely at the smoke behind Bradley Cooper, you'll notice something very familiar: B.A. Baracus' trademark black van! That's right, it looks like they're keeping the van from the original series, and not updating it to something lame and modern like a Suburban or an Escalade. Thank you Joe Carnahan!
The A-Team is scheduled to blast into your local theater on June 11, 2010.