Ahh, the 1980's- everyone's favorite cocaine-fueled decade. You gave us so many wonderful things: Scarface, new wave music, Reaganomics, the DeLorean, and Gordon Gekko.
Yes, it's true, the man who delivered the creed "Greed Is Good" in the seminal 1987 movie Wall Street is back, and this time, it's personal! Well, personal enough, because Shia LaBeouf has been tapped to play the fiancé of Gordon Gekko's daughter, played by Carey Mulligan, in the sequel to Oliver Stone's original stock broker drama.
LaBeouf is teamed up with veteran Michael Douglas, who reprises his role as the formidable and disgraced Gekko, along with Josh Brolin, Frank Langella, Susan Sarandon, Vanessa Ferlito and get this: Charlie Sheen! Yes, you heard it right, the MaSheen is back too! Oliver Stone is presiding over the cast as director of Wall Street 2: Money Never Sleeps. Now that's a title straight out of the 1980's!
Michael Douglas, Shia LaBeouf and Oliver Stone were recently spotted in New York City's Central Park, shooting the new installment in what I suppose can now be called the Wall Street saga, which will be released by 20th Century Fox.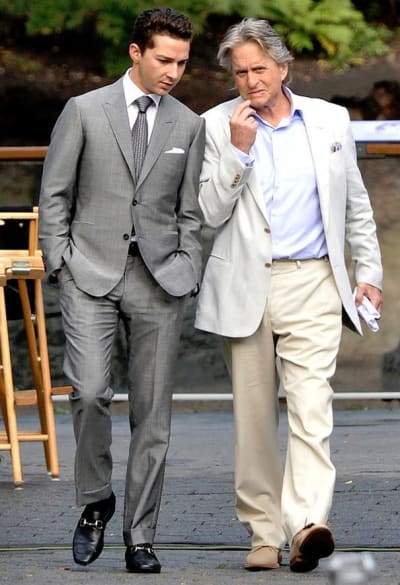 Look how wonderfully crabby Michael Douglas looks! And that old man light tan getup! Amazing! Who would have ever thought in 1987 that we'd get to see a sequel of Wall Street, let alone one where we get to see Gordon Gekko as a crotchety old geezer? I don't know about you guys, but I'm there, despite the inclusion of Shia LaBeouf. I also hope we get to see Douglas and Sheen have a fist fight over what happened in the first movie.
IMDb.com has this to say about the film's plot:
As the global economy teeters on the brink of disaster, a young Wall Street trader partners with disgraced former Wall Street corporate raider Gordon Gekko on a two-tiered mission: To alert the financial community to the coming doom, and to find out who was responsible for the death of the young trader's mentor.
Did I hear that right? Are they trying to make Gordon Gekko the good guy? I don't know Ollie, he's a pretty good bad guy, and after Bernie Madoff, I think a lot of people will enjoy seeing the old bad guy get his ass handed to him. Don't disappoint me- give us MaSheen vs. Gekko round 2!
The movie is due to hit theaters April 23, 2010.