Okay, so Saw VI hasn't even hit theaters yet, and the producers over at Twisted Pictures are already telling us to get ready for not one, but probably two more installments. And this time, the terror will be leaping off the screen!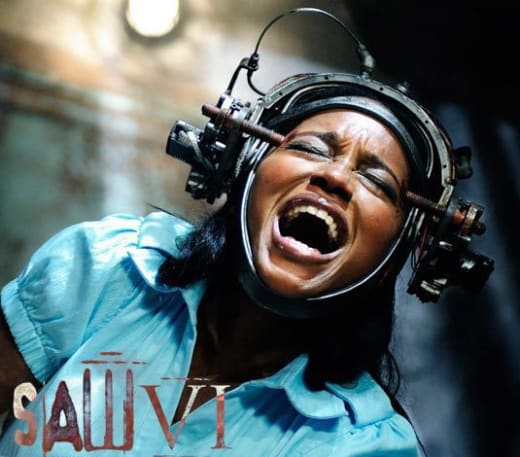 No matter what you may think of the Saw franchise, it's definitely this decade's Friday the 13th series, with a new film pumped out each year. Each film keeps making a nice profit, which keeps the wheels turning at Twisted Pictures, and Lionsgate, the Saw series distributor. 
Next year, fans will have another thing to be afraid of. No, not another Jigsaw, but Jigsaw in 3-D! "'Saw,' just by the way it's shot, lends itself to being a 3-D movie," says producer Mark Burg.
Twisted Pictures apparently did a test with the original Saw, converting certain scenes to 3-D using new software that replicates the stereoscopic effect from regular 2-D footage. The test was so successful that they've decided to make the next big leap.
"We're not going to transfer "Saw VII," but we'll actually shoot it in 3-D," Burg continues. "We want to be able to build the sets in a way that takes advantage of depth. We're going to design traps to come out at you."
"When we go to 3-D on the Saw films, it's like an anti-3-D movie," adds writer Patrick Melton. "We're now in a box, and it's going to make the house of horrors come to life even more. Now we have a lead character and you're going to be inside this place with him and when things come out at him, they'll also come out at you."
Sounds like a creepy diorama, and they're not stopping at seven. "We have the story threaded through 'Saw VIII,'" says Burg. "Where it goes beyond that, I couldn't tell you."
As long as people keep paying, they'll keep making Saw films. Even though I tuned out after part 3, I'm still open to giving part 3-D a chance.
Saw VI opens October 23.