Three years from now, we're screwed. The world will tear itself apart because of a solar flare causing a polar shift and yada yada yada we should have known because the Mayans have been warning us forever. That's the idea behind 2012, Roland Emmerich's latest pyrotechnics display. Watching the film, it would seem we don't have to wait until 2012 to get screwed: paying to see Emmerich's new movie can be done today.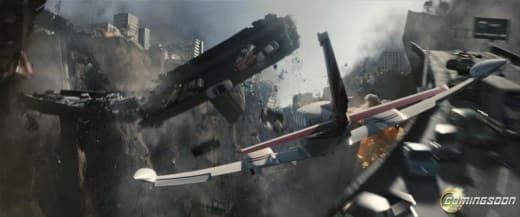 The plot is simple: several groups of people claw their ways out of crumbling cities to survive the mass destruction and make their way to what is basically Noah's Ark for the 21st century. Among our survivors is John Cusack, a failed novelist who moonlights as a limo driver in LA, who must get his estranged family to safety, and manages to do so while constantly looking like one of the Reservoir Dogs in his black suit with a skinny tie. Chiwetel Ejiofor plays a government scientist who discovers the oncoming disaster and warns President Danny Glover, while trying to evade Oliver Platt, who is only interested in saving wealthy people. Woody Harrelson is also sprinkled in there as the wily conspiracy theorist radio DJ, because Roland Emmerich loves to stick to formula.
And what a formula he has. Everything gets ripped apart, flooded and demolished, bigger and crazier than we've ever seen it before. Let's not split hairs- this movie is really only about special effects. If you go in expecting a good human story, like any decent disaster movie should be, frankly, you're a moron and you deserve to have your money stolen. If you go in expecting to see lots of crap get torn up, you're probably a middle-schooler who thinks mass destruction is cool, and you will be satisfied. Just be warned that you'll be enduring 158 minutes of inanity that may not only destroy the planet, but your brain cells too.