There has been a lot of speculation about what angle Ghost Rider 2 will take. Even Nicholas Cage has called for a Ghost Rider reboot.
Screenwriter David Goyer, who has brought us Batman Begins and Blade 2, recently spoke with MTV about his plans for the flaming super hero.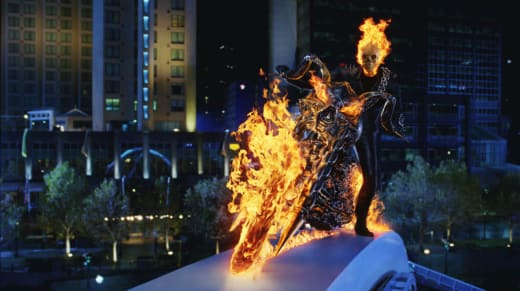 "It's not exactly a reboot," said Goyer. "I hate to say it's more realistic, because he's got a flaming skull for a head, but it's a bit more stripped down and darker. It's definitely changing tone. What 'Casino Royale' was to the Bond movies, hopefully this will be to 'Ghost Rider.'"
So it is a reboot, yet it isn't?
"This story picks up eight years after the first film," said Goyer. "You don't have to have seen the first film. It doesn't contradict anything that happened in the first film, but we're pretending that our audience hasn't seen the first film. It's as if you took that same character where things ended in the first film and then picked it up eight years later—he's just in a much darker, existential place."
Ah, well it's good to hear that they're not relying on the first film, as any good sequel should, but pretending the audience hasn't seen the original? That's a bit disrespectful, don't ya think? Oh, I forgot- it's Ghost Rider.
Ghost Rider 2 is apparently set to roll next year, with Nicholas Cage still attached to play Johnny Blaze.