USA Today has published the first image from the fourth installment of the Shrek franchise, cleverly titled Shrek Forever After, not Shrek Goes Fourth, as was previously believed.
The new image features Shrek and Rumpelstiltskin. Click the thumbnail to view a larger version.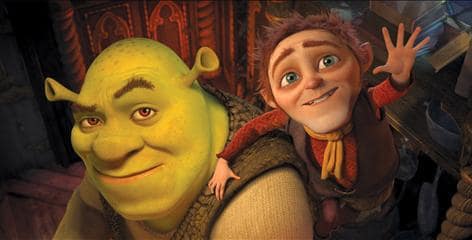 Director Mike Mitchell explained the plot of the fourth film, which sees Shrek as having a midlife crisis, due to over-domestication. "He has lost his roar. It used to send villagers running away in terror. Now they run to him and ask him to sign their pitchforks and torches."
To get his ogrehood back, Shrek strikes a pact with the sly Rumpelstiltskin. When the deal goes sour, Shrek must confront what life would be like in Far Far Away if he had never existed, which include such hardships as Donkey being forced into cart-pulling duty, fat and lazy Puss in Boots trading his sword for a pink bow and the underhanded Rumpelstiltskin ruling the kingdom.
The concept is Grimm's fairy tales meets It's a Wonderful Life, and this time , you won't have to trek to Universal Studios to see Shrek in 3-D. The fourth, and rumored final film in the popular franchise, will be released in IMAX 3-D to cash in on Hollywood's newest trend.
Look for Shrek Forever After on May 21, 2010, and keep your eyes peeled for the first Shrek trailer to be attached to James Cameron's Avatar.