Remember Grindhouse, the Tarantino/Rodriguez double feature? Remember the trailers? Well, they've actually delivered on the promise to turn those into full-length films, or at least for Machete.
For those of you that don't recall, Machete was a trailer shot as a test for Grindhouse that ended up being attached to the beginning of Planet Terror. After fan reaction to the trailer was so intense, Rodriguez and company decided to follow up by expanding Machete into its own feature-length film, starring Danny Trejo, Cheech Marin, and Jeff Fahey, who play the same characters from the trailer.
But what's really interesting is who Rodriguez has added to the cast: Steven Seagal, Robert DeNiro, Rose McGowan (reprising her role as Cherry Darling), Michelle Rodriguez, Lindsay Lohan, and finally, Jessica Alba!
Check out the promo poster for Machete featuring Jessica Alba: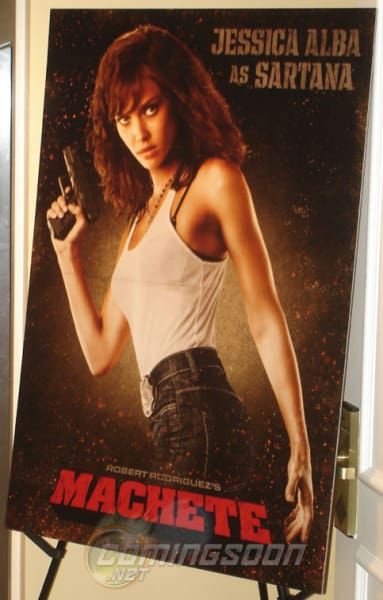 Alba stars as Sartana, a sexy ICE agent with a special interest in the blade slinger played by Trejo.
While the basic plot of Machete remains the same as it was in the trailer, there are a lot more ins and outs, as you can imagine. DeNiro plays the senator Machete is hired to assassinate, Steven Seagal plays a cruel drug lord, while Lohan portrays a socialite with a penchant for cocaine guns. Sounds like a hell of a time, no?
Machete slashes its way into theaters on April 16, 2010.