While Robert Pattinson and Taylor Lautner are busy discussing whether Edward Cullen or Jacob Black would win in a fight, Kristen Stewart is all about the work.
Stewart recently told ComingSoon.net about the difficulties of pulling off the momentous break-up scene between Bella and Edward.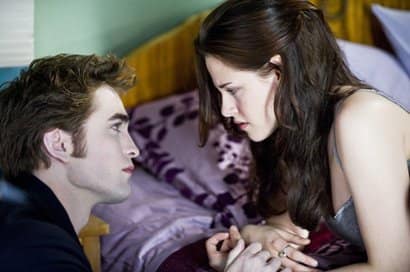 "Reading it, it's so iconic. There's nothing like that moment in reality even. It's not even like a normal breakup scene. I know what's it like to get broken up with but I don't know what it's like to get broken up with by a vampire who I've now been physically and chemically altered by," said Stewart.
"Suddenly you take an addict, you take whatever they're addicted to away from them and there's withdrawal. So that was the most intimidating scene in the entire movie. I don't know how to explain how I did it... I mean, the breakup scene that I did with Rob, that's not where it happens yet. That's not where I was intimidated. That was still, like she doesn't even believe it yet. It's when he goes, the absence of him that I was scared of," she continues.
"Basically, literally having the equivalent of like a death scene but stay alive and get up and keep walking. It was hard. It was really intimidating. I still don't know. I've seen the movie. I really like the movie but I don't know if anyone ever really would've been able to bring that to life the way that Stephenie [Meyer] writes it."
Sounds intimidating. Miss Stewart has plenty more insight into Bella's character in the rest of the interview, which you can read in full over at ComingSoon.net.
You can make up your own mind as to whether she pulled off the break-up when New Moon hits theaters on November 20.