We just love destroying the world, don't we? If it's not Roland Emmerich's in-your-face approach with 2012, it's a more somber, elegant flavor presented by No Country For Old Men writer Cormac McCarthy. 
The Road, starring Viggo Mortensen, Charlize Theron and Robert Duvall, and based on the Pullitzer Prize winning McCarthy novel, opens in theaters this Wednesday- just in time to balance your Thanksgiving festivities with a little post-apocalyptic sorrow.
Dimension Films has released a new poster for the film that features an inexplicably large Rolling Stone magazine logo.
See for yourself (click the image for a larger view):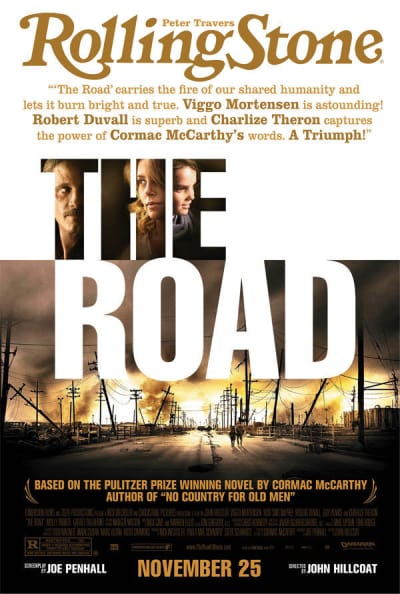 Now, I love Rolling Stone as much as the next guy, but what is this poster selling? Have we become that jaded that we need to see the Rolling Stone logo that large on this poster to tell us this movie is cool?
Sure, it's an interesting image and all, but it looks more like a magazine cover than a movie poster. Not to mention that all of this fanfare is for a Peter Travers review. The snippet Dimension has chosen reads like the most generic accolade one could say about a film. How many times can Peter Travers rave "A Triumph"? I distinctly remember the same two word review on the back of the Batman videocassette... in 1989.
All that being said, McCarthy's No Country For Old Men and Road director John Hillcoat's The Proposition were both excellent films, which would lead me to believe The Road will follow in their footsteps. I'll be there on November 25, when The Road opens in theaters.