No, we're not talking about Ghost Rider 2, but Nicholas Cage will be appearing in My Bloody Valentine 3-D director Patrick Lussier's new movie Drive Angry.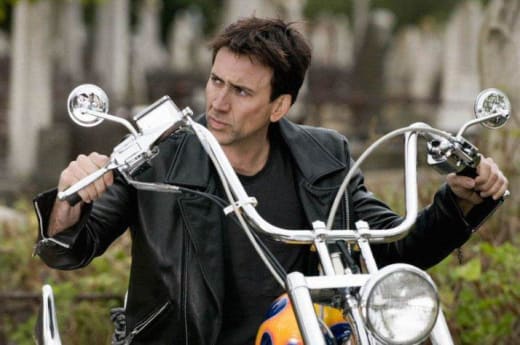 Lussier is writing and directing Angry, which will also be shot in 3-D. Nu-Image/Millennium Films has released these plot details:
Drive Angry stars Nicolas Cage as Milton, a hardened felon who has broken out for one last chance at redemption. Hell bent on stopping a vicious cult of fanatics who murdered his daughter, he has three days to stop them before they sacrifice his infant granddaughter beneath a full moon. Milton must use his anger to go beyond all human limits in order to save his last connection with humanity.
Shocktillyoudrop.com has posted a more in-depth synopsis that reveals Cage will be burning rubber in a black '71 Challenger and will also be on the run from a relentless killer known only as "The Accountant". Between this and Machete, it sounds like the grindhouse aesthetic is back in full force!