After seeing the first photo of the new A-team, we knew that Joe Carnahan was sticking close to the original tv series for his reboot. But what we all wanted to know was whether or not we'd get to actually see some of our favorite faces from the 80's in there.
Well, the Official Dwight Schultz Fansite has just confirmed that the man who played the original  Mad Dog Murcdoch will be making a cameo in the new film!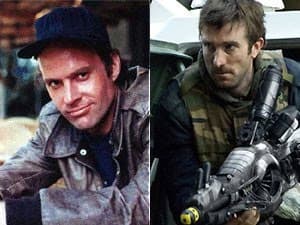 "We are pleased to inform you all that Dwight has actually already been working in Vancouver, where he has played a cameo role in The A-Team movie. Sharlto Copley, the South African actor who plays Murdock, is according to Dwight: 'brilliant beyond words'. Dwight has seen his screen test and he stated: that honestly, if Sharlto is given an opportunity to do what I saw in that test, "Murdock" will be better than ever!' Sharlto has been very kind to him on the set and Dwight must say that he has been treated very well."
While Dwight Schultz isn't usually the first guy you think of when you think A-Team, his cameo sets an excellent precedent. Maybe we'll get an appearance from Mr. T as well...
The A-Team storms into theaters on June 11, 2010.