This week was an interesting one as Halloween weekend came and went.
Michael Jackson proved one last time that he's the King of Pop with This is It, the documentary of what was to be his most recent concert, garnering approximately $21 million and landing the #1 spot at the box office and raising it's 5 day tally to $101 million.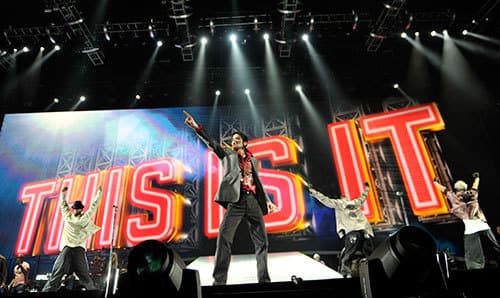 Oren Peli's micro-budget horror gem Paranormal Activity dropped to number 2, but raked in another $16 million to end up at $84.8 million total, making it the highest-grossing horror movie of the year. Meanwhile, Twisted Pictures' Saw VI dropped off sharply in its second weekend, moving down to number 5 for Halloween, only bringing in $5.5 million for a $20 million take. Saw VII and VIII doesn't look like such a good idea right now...
Here's the top 5 of the weekend:
Michael Jackson's This Is It: $21.3 million
Paranormal Activity: $16.5 million
Law Abiding Citizen: $7.3 million
Couples Retreat: $6.1 million
Saw VI: $5.6 million