Robert Pattinson was a nobody just a few short years ago. The monumental success of Twilight catapulted him from character actor obscurity to leading man super-stardom overnight.
With New Moon breaking box-office records and the Twilight frenzy in full swing, UK distributor Revolver is cashing in with a documentary on the young star, titled Robsessed.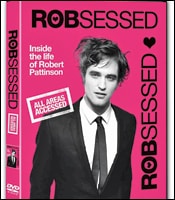 Touting the tagline "inside the life of Robert Pattinson," the doc is sure to find an audience amongst the obsessive teen crowds that are fueling the success of the popular vampire franchise. Revolver is pushing the documentary as an iTunes digital download in Pattinson's native UK, but plans to release theatrically in America.
As much as the project sounds like it's nothing more than the first quarter of an over-hyped E! True Hollywood Story episode, the DVD cover promises to all but guarantee massive tween response.