Sylvester Stallone is hard at work on his next adrenaline-drenched actioner, and as was reported last week, just shot a pivotal scene with action alums Ahnold and Bruce. Well, today Stallone took a break from kicking ass to talk to Entertainment Weekly about that crucial scene.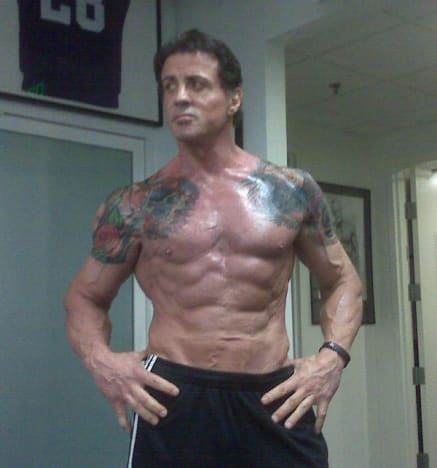 From the EW article:
Stallone said the superstar-summit scene takes place in a church, where Willis' nasty antagonist has summoned Stallone's macho mercenary to finally meet him face-to-face, take measure of him, and possibly hire him for a death-defying mission. But just as the meeting gets under way and smartass smalltalk is made, in walks another killer-for-hire — Stallone's longtime rival, who Willis has also invited to this job interview: Ah-nuld.

"Bruce says 'Well, there's one other person I want to talk to before I hire you," says Stallone. "And then Arnold, who plays my old rival, walks in. We have a history together. And we go back and forth and I tell him that I should have shot him a long time ago when I had the chance. Then it goes on from there. And here we are, the three of us trying to man up to one another, playing off of who we are, using our baggage in this one scene."
Sounds pretty freakin' awesome! And just look at that picture of Stallone all ripped and tatted up. Everything about this movie screams 80's blow-em up ridiculousness, and after Stallone's ultra-bloody Rambo, I can't help but get excited by the premise of The Expendables.
The Expendables is set to shred theater screens on August 20, 2010.