Director Scott Cooper has seen a lot of movies, but he's only made one. His directorial debut is Crazy Heart, a filmic adaptation of Thomas Cobb's novel, about a broken-down Country singer who gets a second chance with the help of a compassionate journalist who discovers the man underneath the train wreck.
Cooper's movie isn't just another low-budget film. It has star power. Jeff Bridges plays Bad Blake, the aforementioned country singer, Maggie Gyllenhaal plays Jean, the journalist, and Colin Farrell makes an appearance as Tommy Sweet, Blake's former protege. But that's not all- the script came with the blessing of Robert Duvall, who recently starred in The Road with Viggo Mortensen and Charlize Theron. Duvall also produces and has a role in the film.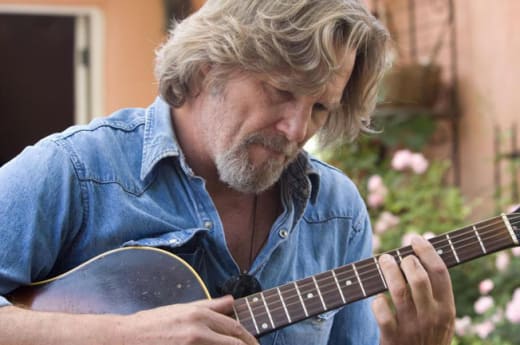 Cooper knew he had the right actor in Jeff Bridges- he wrote the script for him (the first and only screenplay he's written) and was also an avid fan of his work before taking on the project.
"He had the carriage and the physicality that I wanted and the fact that he's among the best American screen actors doesn't hurt," said the director.
Cooper was even a fan of Bridges' music (bet you didn't know he was a musician, did ya?) "Yes, actually I owned his record. I had it on my iPod."
But the best part is that of all the Jeff Bridges movies Cooper has seen, which made him decide that the veteran actor was his man, the one he's missed also happens to be Bridges' most popular- The Coen Brothers' modern classic comedy The Big Lebowski. 
"I have never seen that film. That's the only film of the Coens I've never seen and the reason I haven't seen it is because I wasn't available to see it when it was projected and I don't like watching films, for the most part, on DVD, certainly not the Coen Brothers' (movies), and I haven't been able to see it in a revival house or anything."
For shame, Scott, for shame!
"Of course, I'm very intimate and familiar with Jeff's material, his performances over the years and that was the only thing I hadn't seen and I felt like, "Well, don't see it until after you've worked with Jeff if that's the only thing that I hadn't seen." So, now that we're finished I'm gonna see it."
Let's hope he enjoys it. For the rest of the interview with Scott Cooper, head on over to ComingSoon.net, and be sure to check out Crazy Heart, in theaters starting this Friday.