Back in the 60's, Italian filmmaker Federico Fellini made a movie called 8 1/2, about a film director who is about to embark on a costly science fiction film, yet he has no idea what it's about. On top of that, he becomes entangled in a web of lies as he tries to balance his existence with his wife and several mistresses, all while retreating into his mind for solace.
In 1982, a Broadway version of Fellini's masterpiece was staged, and it is this version of that vision that Chicago director Rob Marshall convinced method actor Daniel Day-Lewis to star in. But Day-Lewis wasn't without his worries about playing the lead in Nine.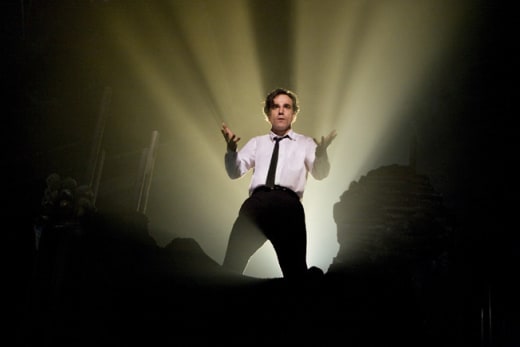 "I was nervous as hell, like everyone else," he said. "I suppose that anyone who does any kind of creative work at some time in their life, and it tends to happen as you grow into middle age, you come to a time when you really question more and more frequently whether you have anything else to offer."
"At its very worst you feel utterly bereft of whatever creative force it takes to do that work. I suppose I was interested in that dilemma for a man who's about to shoot a film in five days and he's living in a wasteland of his own making."
But beyond the creative forces, Day-Lewis had even greater doubts he could pull off the singing required for the musical. 
"Rob convinced me, really against my better judgment, that I would be able to do this thing. I tried to think of every excuse not to, I thought he needed somebody else… I think I gave him a few names actually!" the actor recalled. "The musical director came over to the place I was staying and I tried to stagger through the songs with him, and quite clearly I was incapable of singing them, but Rob STILL managed to convince me that it would be okay."
"It was really that time during rehearsals when we formed those bonds of trust you need to have so you can live near the edge of anarchy, which is where most creative work happens."
Nine opens limited on December 18, and wide on Christmas Day.