Anyone who's seen the Robert Rodriguez/Quentin Tarantino double feature Grindhouse has seen the Machete trailer. Now, Machete is its own full-length feature film!
Danny Trejo, who plays the titular character Machete, recently spoke to Collider.com about the upcoming film, what it was like to work with Robert DeNiro again, and even dishes some dirt about possible sequels!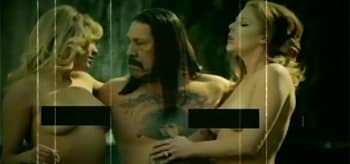 "Machete kicks ass.  It is a culmination of Desperado, Once Upon a Time in Mexico…there's even a little bit of From Dusk 'Til Dawn in there.  I think it's gonna be one of his best.  And I'm not just saying that cause I'm the lead, it's just a great movie," said Trejo.
"It's a battle for our border, you know? People are really serious about what's going on with the border, and it shows the negative side of both sides.  Not just, we want everybody to cross or we don't want anybody to cross.  It shows the negative side of both sides.  Everybody's gonna be pissed off."
Machete marks Trejo's first collaboration with Robert DeNiro since Michael Mann's Heat in 1995.
"When I first saw Robert De Niro on the set, he came up and his first words to me were, "Don't leave me like this, homes." You know, that was my line in Heat. And I kind of laughed and he said, "Man, Danny, I'm really proud of you. You're the lead. This is it, this is you."
Trejo also spilled some beans about the possibility of future Machete sequels:
"We want Machete, Machete Kills, and Machete Kills Again. [Laughter] That's mine and Robert's standards, you know? Every time I text him, he'll text me back, Machete 2, coming up. [Laughs]"