Ah, the joys of home video... Now that The Hangover has been released on DVD and Blu-ray Disc, you can relive the fun over and over again!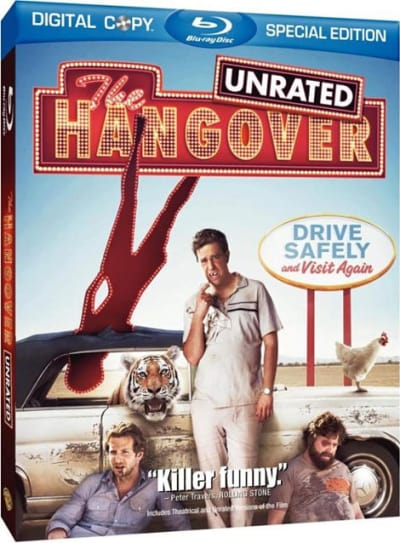 Also, it's enabled us to expand our already large Hangover quotes section!
Take a look at these favorites and browse the rest in the gallery!
Doug Billings: All good with Melissa?
Stu Price: Oh, yeah. Told her we're two hours outside of wine country, and she bought it.
Phil Wenneck: Don't you think it's strange that you've been in a relationship for three years and you still have to lie about going to Vegas?
Stu Price: Yeah, I do. But trust me, it's not worth the fight.
Phil Wenneck: Oh, so you can't go to Vegas but she can f**k a bellhop on a Carnival Cruise Line?
Stu Price: Okay, first of all, he was a bartender. And she was wasted. And, if you must know, he didn't even come inside her.
Phil Wenneck: And you believe that?
Stu Price: Uh, yeah, I do believe that, because she's grossed out by semen. | permalink
Alan Garner: What if Doug's dead? I can't afford to lose somebody close to me again, it hurts too much. I was so upset when my grandpa died.
Phil Wenneck: How'd he die?
Alan Garner: World War II.
Phil Wenneck: Died in battle?
Alan Garner: No, he was skiing in Vermont, it was just during World War II. | permalink
Phil Wenneck: The best little chapel... Hey doc, do you know the address of that place?
Dr. Valsh: Oh, you know, I do know the address. It's at the corner of go f**k yourself and buy a map! | permalink
[In the wedding]
Alan Garner: How's my hair?
Stu Price: That's good.
Alan Garner: It's cool like Phil's?
Stu Price: It's classic Phil. | permalink
Alan Garner: [after learning the hotel room they had reserved only had 2 beds] Two beds is enough, we can share for a night. I'll bunk with Phil. That cool with you?
Phil Wenneck: No. | permalink
Sid Garner: Remember, what happens in Vegas stays in Vegas. Except for herpes. That s**t'll come back with you. | permalink
Alan Garner: It's got, ah, Ted Danson and Magnum P.I. and that Jewish actor... | permalink