The toys are back! This time, our favorite characters Woody, Buzz, and the rest of their toy-box friends are dumped in a day-care center after their owner, Andy, departs for college.
Disney has released a new image from the upcoming sequel, which features the voices of Tom Hanks, Tim Allen, Joan Cusack, Don Rickles, Wallace Shawn, John Ratzenberger, Estelle Harris, John Morris, Laurie Metcalf, R. Lee Ermey, Jodi Benson, Ned Beatty, Michael Keaton, Timothy Dalton, Jeff Garlin, Bonnie Hunt, Whoopi Goldberg, Kristen Schaal and Blake Clark.
Click the thumbnail to see a larger version, and check out more Toy Story 3 pictures in the gallery!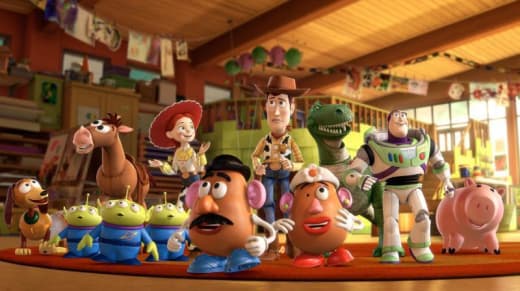 Toy Story 3 hits theaters in 3-D on June 18,  2010