Robert Downey Jr. and Jude Law Talk About Bringing Sherlock Holmes to the Big Screen.
by Rupert Pupkin at . Comments
In only a week, Robert Downey Jr. and Jude Law will take center stage on the silver screen as legendary sleuth team Sherlock Holmes and John Watson in the Guy Ritchie-directed Sherlock Holmes. This time out, Holmes and Watson are a more action-oriented duo, employing their fists just as much as their intellects.
Recently, Downey Jr. and Law spoke about the new film at a press conference in London.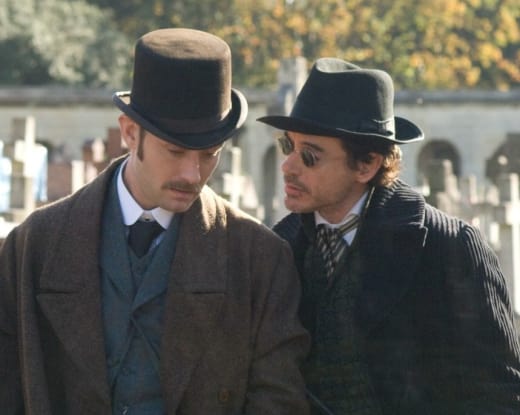 "When I was asked to get involved, Robert was already set as Sherlock and Guy was directing. I knew from then that it was going to be a different take on the older films of Sherlock Holmes. It fascinated me and obviously they were coming to me not to put on two stone and fall around, put my foot in waste paper baskets, but they were going to ask me to play Watson with a bit more edge," said Law.
"What was intriguing, because I hadn't read the books as a boy, was to go back to the books and realize how much of this new rediscovery, if you like, was also in the source material."
So it would seem a brawling Holmes isn't an alien concept. If that's the case, one might also assume the same thing about Holmes' use of narcotics in past novels...
"This is a PG-13 movie and even if it wasn't, the idea is, if you go back to the source material, he's never described as being some strung out weirdo," says Downey Jr.
"Also, back in Victorian times, it was absolutely legal, acceptable. You could move down to your corner pharmacist and grab all that stuff, so we thought it would be irresponsible to not make reference to it and, so again, I think a lot of the flaming hoops we had to jump through doing Sherlock were, how do you take what comes from the source material and how do you amend it so that it's accessible and how do you not whitewash it but how do you still be respectful to that."
So it would seem we're getting a more faithful version of Holmes and Watson than one would assume upon seeing the latest Sherlock Holmes trailer. There's a lot more to the press conference, which you can read over at ComingSoon.net.
Catch Robert Downey Jr. and Jude Law in Sherlock Holmes, starting Christmas Day!