The box office reports are in, and The Blind Side is this week's king, beating out the tween juggernaut New Moon for first place.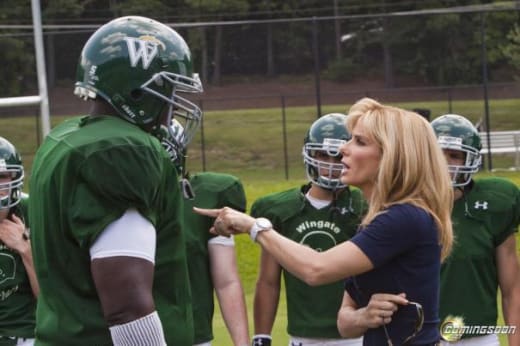 The Sandra Bullock-starring drama earned $20.4 million this past weekend, bringing its total earnings up to $129.3 million. The film only cost $29 million to make.
New Moon came in second with $15.7 million, a 63.4% drop from the previous weekend, raising its domestic total to $255.6 million. 
Coming in third, Jim Sheridan's Brothers, starring Jake Gyllenhaal and Tobey Maguire, was the best of the new releases, earning $9.7 million. Two other notable newcomers this week were the heist thriller Armored, which took in a respectable $6.6 million, and Jason Reitman's Up in the Air, which in a limited release, saw an incredible $1.16 million from just 15 theaters.
A Christmas Carol earned a slight boost, probably due to the onset of the Christmas season, to land at number 4 with $7.5 million, while the poorly-reviewed Old Dogs miraculously held onto a spot in the top 5 with $6.9 million. 
Here's a quick look at the top 5:
The Blind Side: $20,440,000
New Moon: $15,704,000
Brothers: $9,700,000
A Christmas Carol: $7,520,000
Old Dogs: $6,901,000