When one thinks of Guy Ritchie, several stylish embellishments come to mind, particularly Madonna, witty Londoner dialogue, frenetic camera movement, and an eclectic choice of modern and classic rock oddities blaring on the soundtrack. Ritchie got his start with the cult hit Lock, Stock and Two Smoking Barrels back in the late 90's and solidified the "Guy Ritchie" style in 2000 with the star-studded Snatch. Many could argue that these films were almost twins, as the hallmarks of Ritchie's work were exhibited loud and proud in both. 2008's RockNRolla wasn't much different, proving that Guy still had the slick Richie sheen, even after a torrid marriage with a pop star, kids and a really lame romantic comedy starring his at-the-time wife.
But Guy Ritchie's first post-divorce film seems to shed nearly all the shortcomings of his previous work. Sherlock Holmes, while quick-witted, fast paced and slathered with occasionally hyperdynamic cinematography, doesn't fall into the traps of the "Guy Ritchie formula". Of course, one could argue that the subject matter itself, that of a scholarly-yet-misanthropic detective and his well-groomed, stately sidekick solving crimes in Ye Olde London could easily counteract Ritchie's pubescent action boner storytelling methods.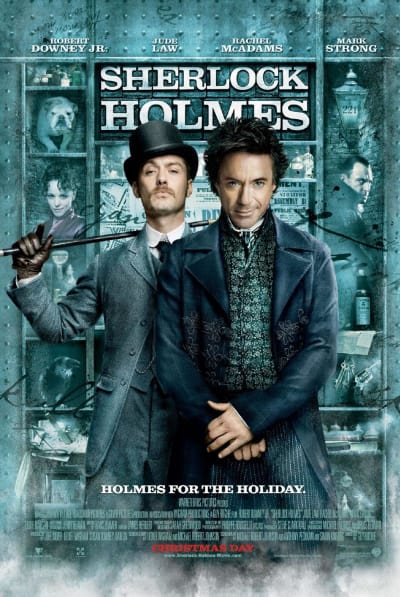 The script is top notch, featuring an engagingly wild premise that follows a black magic Illuminati member being resurrected from the dead, hell-bent on taking over the government of not only Britain, but the United States as well. Sherlock Holmes and Dr. John Watson are drawn as younger, hipper versions of their former selves, with Holmes being a pompously likable loose canon genius with a penchant for bare-knuckle boxing, and Watson being the dashing, dapper, straight man doctor with a soft spot for his colleague and roommate. Their living situation adds humor to the mix, portraying them as a bickering odd couple rather than stodgy dicks of Scotland Yard. There's also Irene Adler, an old flame of Holmes' who just so happens to be a master thief, the pseudo-bumbling Inspector Lastrade, who tolerates Holmes' infractions only because the job gets done, and Lord Blackwood, the mysterious statesman who returns from the grave.
The dialogue is well done, in an old English style that doesn't seem too antiquated to be jarring to modern audiences, and the plot is intricately woven, with surprises hidden at every turn that unravel at the end to explain everything in precise detail without going too far or seeming too outlandish. There's probably a lot of pseudo-science being used to sufficiently tie up loose ends, but none of it seems out of place, helping the twisty plot to resolve in a an easy-to-follow manner.
Performance-wise, Robert Downey Jr. and Jude Law are the tits, as the Brits would say, as Holmes and Watson. Their constant bickering and Grumpy Old Men attitudes deliver plenty of chuckles without getting obnoxious or seeming unbelievable. Holmes' physical and mental prowess are demonstrated well and come off as an extension of his fascination with science, allowing him to perform impressive feats without making him look like a super hero. Jude Law's Watson is more tempered and just as well grounded in reality, but he manages to get some standout jabs in as well, so it's not the Robert Downey Jr. show, as it could easily have been. Mark Strong is decently menacing as Lord Blackwood, and Rachel McAdams makes the love story between Adler and Holmes perceptible without seeming maudlin. However, this isn't McAdams at her best, and it would seem that Ritchie has under used her obvious talents this time out, though her character is decently drawn.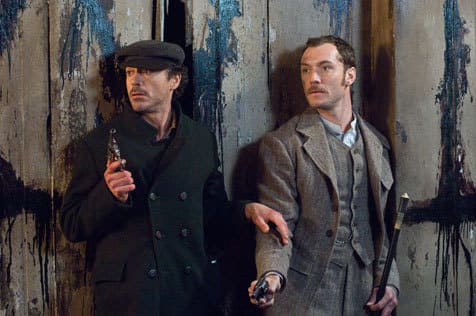 The action set pieces are detailed and well-executed, regardless of several ridiculous instances of the previously mentioned pseudo-science saving the day, and the editing sets a brisk pace that doesn't seem forced or rushed. The cinematography enhances the old London feel, with smokey brown and gray hues and an overall desaturated tone. Ritchie handles the camera direction well and doesn't ever get too flashy, but still allows himself to indulge from time to time, particularly in the action sequences.
When it's all said and done, Sherlock Holmes is a well-made blockbuster film that is fun, funny and exciting. Done much like Nolan's Batman reboot, Holmes sets up a familiar arch-nemesis for a continuation of this series. Seeing as how the original Holmes novels have inspired countless interpretations and permutations, it's safe to say that we'll be seeing RDJ and Jude Law back at it again in Sherlock Holmes 2 before we know it.
Jolly good show, Guy.