It was kind of a no-brainer: Disney/Pixar's latest digitally animated feature was already going to be in Disney 3-D, as 3-D fever grips Hollywood yet again, but what's better than 3-D? IMAX 3-D!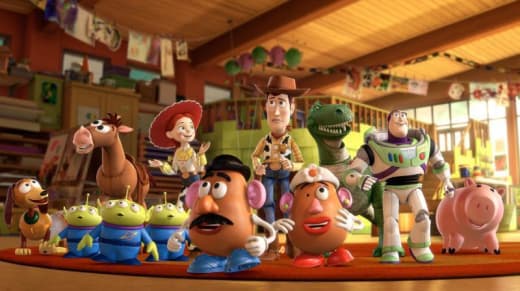 Toy Story 3 will be released in IMAX 3-D on June 18, 2010, simultaneously with its wide theatrical release. The plan is to have IMAX convert the film using its proprietary IMAX DMR technology to blow the film up for the giant screen. 
"We're very excited to once again unite Disney Digital 3D with The IMAX Experience, and to do it for the long-awaited release of Toy Story 3 is a real treat. A film like this is designed to take audiences on an exciting thrill-ride adventure, making it a perfect match for both 3D and IMAX," said Walt Disney Studios distribution president Bob Chapek.
"We have always envisioned the Toy Story franchise as an ideal fit for The IMAX Experience and we're very happy to finally turn that vision into a reality," said IMAX CEO Richard L. Gelfond. "This film also fits nicely into our 2010 lineup, ensuring that families will be able to start the summer holidays with a fun Disney release in IMAX."