When subjecting audiences to a remake, it helps to start with a film that deserves to be remade. I'm not talking about reworking an already good film, but taking a film that had good ideas that just didn't all come together.
Disney's 1979 space odyssey The Black Hole is just that sort of film. It had a great premise: a group of space explorers discover a long-lost ghost ship hovering near a black hole. It had a great cast: Robert Forster, Anthony Perkins, Maxmillian Schell and Ernest Borgnine. It had a badass killer robot. It had laser gun battles. It had amazing effects for the time. It even had a great musical score.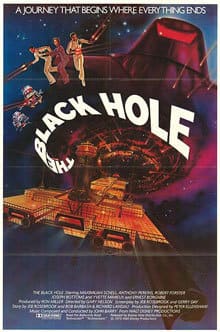 Still, The Black Hole turned out too cheesy and ham-fisted for its own good. Many of the effects look laughable by today's standards, and the subplot about the woman who talks to the cute, snarky robot via ESP is just ridiculous. Even so, or for these very reasons, the film has become a cult classic.
In an age where everything is being remade, this is a film that could actually use a facelift. Enter director Joseph Kosinski and producer Sean Bailey, who recently wowed Comic-Con attendees with their Tron Legacy footage, which is promising a sleek, dark edge to the otherwise goofy computer world of the Tron universe. They're officially working on a Black Hole remake with writer Travis Beacham, who recently did some work on the Clash of the Titans remake.
Apparently, the plan is to ground the film more in the science of black holes than the original film, which seemed to ignore pretty much every law of reality, particularly in its third act. In short, they're losing the cheese but keeping the robots. Good move.