It seems to be the movie that won't stop! James Cameron's Avatar made $48 million domestically this past weekend, earning it another merit badge, this time for largest domestic 4th weekend. Worldwide, the sci-fi adventure pulled in an impressive $191 million.
This brings Avatar's domestic total up to $429 million, and bumps the worldwide take to $1.335 billion. Titanic's reign as King of the World might be ending soon...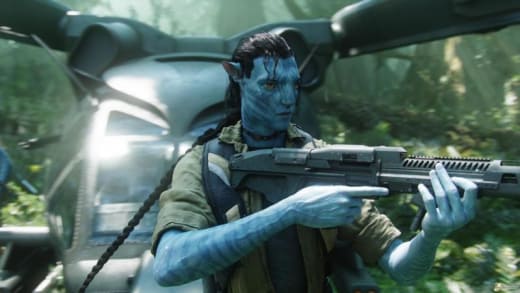 Still not down for the count, Sherlock Holmes added $16.6 million to Warner Bros' pockets, while Alvin and the Chipmunks: The Squeakquel held third place with $16.3 million.
Newcomer Daybreakers, Lionsgate's futuristic vampire thriller, opened with a respectable $15 million. The film, starring Ethan Hawke and Willem Dafoe, only cost about $20 million to make.
The romantic comedy It's Complicated rounded out the top 5 with $11 million.
Here's a quick breakdown of the top 5:
Avatar - $48,500,000
Sherlock Holmes - $16,610,000
Alvin and the Chipmunks: The Squeakquel - $16,300,000
Daybreakers - $15,000,000
It's Complicated - $11,007,375