Always the goofball, Bruce Campbell finally became a full-on parody of himself in My Name Is Bruce, a fun little B-movie where Bruce is mistaken for his Evil Dead character Ash and forced to fight a monster in rural Oregon. Normally, it's sad to see actors become self-parodic, as the effect is usually unintentional (see: Al Pacino in 88 Minutes, or Harrison Ford in the Extraordinary Measures trailer). But Bruce is the kind of guy you love to see make fun of himself, because, well, he's just so damn good at it.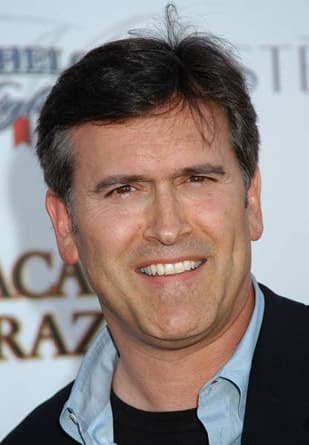 So, when Bruce got on the horn with Ain't It Cool News earlier today to announce his next project, Bruce Vs. Frankenstein, it got us all excited here at ReelMovieNews.
Here's what Bruce had to say:
"Hello everyone. Bruce Campbell here. This urgent message is short, because my keystrokes are monitored and I fear for my life. My partner at Dark Horse comics, Mike Richardson (normally a very rational and talented man), threatened to have his foot soldiers "crush my spleen" if I did what I am about to do. But the fans deserve to know, so with great trepidation I officially announce Bruce Vs. Frankenstein, the sequel to My Name is Bruce. Principal photography begins this fall in Oregon. I'd like to live long enough to see the cameras roll, so please, for the love of God, do not tell anyone - I can't risk this announcement getting back to Mike! Thank you."
Let's hope he stays alive long enough to get Bruce Vs. Frankenstein in the can. Can't wait to get your Bruce Campbell fix? Check out our Army of Darkness quotes!