We knew it was bound to happen soon. With Twilight setting off a pop culture blaze that made stars of Kristen Stewart, Robert Pattinson, and Taylor Lautner,  generated a heap of money for Summit Entertainment and already produced two sequels, New Moon and Eclipse, adapting the fourth Stephanie Meyer book, Breaking Dawn, was just a matter of time.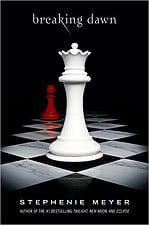 For those of you that haven't read Breaking Dawn yet, spoilers may follow, so turn back now!
Breaking Dawn follows the events of Eclipse, which is currently set for release on June 30, and sees Edward and Bella married and (gulp) pregnant! They give birth to a half-human half-vampire child names Renesmee, who proceeds to grow and develop an unnaturally accelerated rate.
Twilight Saga producer Wyck Godfrey recently spoke to the Los Angeles Times about the challenges of bringing such a character to the screen.
"It's certainly going to be visual effects in some capacity along with an actor," the Godfrey revealed. "I wouldn't be surprised if it ends up being a full CG creation, but it also may be a human shot on a soundstage that then is used to shrink down."
As the book is quite hefty, Godfrey discussed whether or not the adaptation will be split into two films, much like the upcoming Harry Potter and the Deathly Hallows.
"The issue [of whether there will be one or two movies] is not going to be resolved until we get the full treatment and see whether it's organic," said Godfrey. "It really has to do with how much level of detail from the books there is, with all of these new vampires that appear in 'Breaking Dawn,' the whole section about Jacob... It's a very long single movie if it does become a single movie."
When might we see Breaking Dawn? The plan is to start shooting in Vancouver this fall, so 2011 is a safe bet.